Client Showcase
Each website created by Gulfcoast Webworks has its own unique design and style. Whether you need a complete website design or you are a graphic designer and need your pages assembled to operate on the internet Gulfcoast Webworks has the resources to accomplish your goals at competative priceing.
DJ'S Sportscards Football Baseball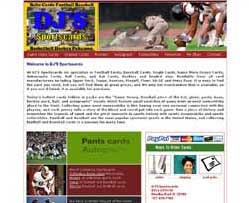 At DJ'S Sportscards we specialize in Football Cards, Baseball Cards, Single Cards, Game Worn Jersey Cards, Autographs Cards, Ball Cards, and Bat Cards, Rookies and Graded also. Available from all card manufacturers including Upper Deck, Topps, Donruss, Playoff, Fleer, SA-GE and Press Pass. It is easy to find the card you need, but you will find them at great prices, and We only list merchandise that is available, so if you see it listed, it is available for purchase.
(click on the graphic to go to their website).

Next Showcase Sports memoribilia and Helmet Danglers
DJ'S FOOTBALL CARDS collectibles and memorabilia we specialize in single Cards Baseball POKEMON PSA GRADED Jersey cards Relics.