About Marketing costs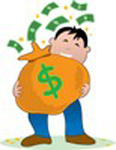 by Clay Marafiote
Here is an article on Marketing costs how much is enough.

Have you ever wondered "how much marketing is enough"?

I don't know how many times I've heard that question, but it has to be somewhere in the hundreds! In reality, though, the question being asked is, "How much should I SPEND on marketing every month?"
Over the years, I've learned this question usually comes about because someone's boss or partner doesn't like to spend money on marketing, and the person asking needs to build a case for a budget increase. From that perspective, it's a pretty good question.
So, do you want to know the answer?
Well,there isn't a catchall answer, and here's why: different businesses need to spend different amounts to get the results they're looking for.

The truth is, your company might do really well by simply sending customers a Christmas card every year... or you might need to spend as much as 80 cents of every dollar for marketing.

How might you go about doing this?
When it comes to your marketing budget, just know this
What matters are your RESULTS. So, with that said, it's much more productive and easier to look for signs that you aren't marketing enough. And if they appear, market more.
Here are three telltale signs of anemic, ineffective marketing:


1) Your sales are primarily motivated by lowering price.
2) You keep jumping from one sales gimmick to another.
3) Your established customers say "I didn't know you offered.


In marketing, the "ends justify the means" and, again, the only thing that matters is whether or not you're getting the results you want!

Marketing Costs Resources:

- Marketing costs money Marketing costs money. Henry Ford is credited with saying "I know that half of my advertising spend is wasted. If only someone would tell me which half.